Some of the equipment I use for playing and recording.
Korg Krome 88 Workstation
Korg Krome 88
My only professional workstation. I got this in November of 2012. Before that I used Yamaha Portable Grand keyboard and an old digital piano made by Technics. It's big, yet quite light and has all the features I need plus more. The sounds are awesome too. I use a Hercules stand, two guitar cables and a sustain pedal with Krome. What I should buy is a drink holder. Just because it's cool!
Ibanez RG350DX in white
Ibanez RG350DX-WH
Sadly, my only guitar. It feels good, sounds good and looks amazing. Without the Edge III tremolo, this guitar would kick so much ass. It's hard to keep in tune with a bad tremolo. I'm actually going to buy another Ibanez RG which is really similar to this one. It doesn't have a tremolo at all but that's totally ok. I got this RG in 2006 when I started playing guitar. There are Sonata Arctica's band members' signatures in the back. I will never ever sell this guitar!
I rarely use this amp anymore. I think it's an awesome amp for beginners but if you have a bit more money in your pocket you should get the 80 watt version! The sounds are quite good. At least a lot better than in any of the Line 6 Spider amps. It has nice effects too. What it doesn't have is a line-out output.

You won't hear the Cube in any of my recordings since I use an audio interface with amp presets nowadays. I did start my demoing by using a mic and this amp tho'!
I got this as a gift back in 2008. I like using a wah pedal occasionally but I just don't need this pedal anymore. I'm probably going to sell it...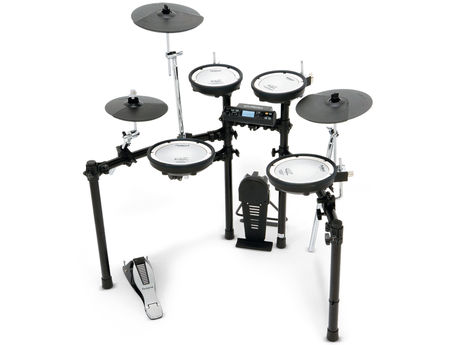 Roland TD-4KX
Roland TD-4KX
In 2010, I went to play electric drums in a music store. After that I just had to get a set of my own so I bought one in the beginning of 2011. It's a nice little hobby. I only play these at my parents' house since I don't have room for them in my place.








Recording hardware & software:
Apple Macbook Pro 15.4 Retina Late 2013
Apple Macbook Pro 15.4" Retina Late 2013
The finest Macbook from late 2013 with the Retina display, 2.3GhZ Intel i7 Haswell processor, 16Gb RAM, Intel Iris graphics and 512Gb SSD. I dreamed about a laptop like this for a really long time and was so happy to get it in December 2013! It's super powerful yet very compact.
Logic Pro X
Apple Logic Pro X
The DAW I use. It's easy to use and has a ton of features! Many other musicians use it too.
Line 6 UX2 & Pod Farm 2
Line 6 Pod Farm UX2
UX2 USB audio interface and Pod Studio 2 amp modeling software. The audio interface has all the ports I need and the Pod Studio has a lot of amp presets and effects. I use this to my guitar sound like it does. I'm very happy with the product and recommend it to everyone who needs good guitar sounds and an easy recording environment.
KRK Rokit 5 G3
KRK Rokit 5 G3
My first professional active studio speakers. I love 'em! The sound is very accurate and they look good.
Other stuff:
- DiMarzio and Fender cables
- DiMarzio ClipLock guitar strap
- Dunlop Max-Crip Jazz III picks
- AKG K518 DJ headphones
- Canon EOS M DSLR